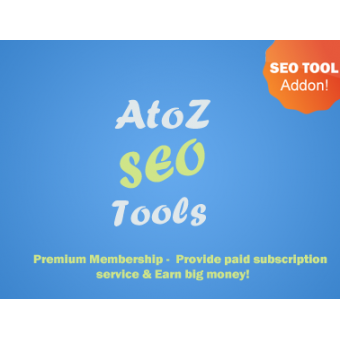 Availability:

In Stock

Product Code:

Product 32
Description
~ Premium Membership ~
Start your SEO business where a customer must pay a subscription price to have access to the A to Z SEO Tools. Using this addon you can earn big money by offering SEO Services.
~ Features ~
| | |
| --- | --- |
| Downloadable PDF reports with 50+ statics in one. Almost, 22 pages report with customizable suggestions. (PDF Report Demo) | Multiple Currencies allow you to invoice and bill your customers in as many different currencies as you want. |
| Tax Support allows both custom taxation rule and country based tax. Even, tax have fixed or percentage rate. | Multiple Payment Gateways Inbuilt PayPal & Skrill payment gateway included. You can also integrate other payment system with fully automated payment processing, payment confirmations & refunds. |
| One Time & Recurring Billing You can perform both one time billing & regular billing cycle. Regular Billing includes Monthly, 3 Months, 6 Months & Yearly Cycles. | Automated Reminders Reminders are sent both before invoice due dates, as well as after in the form of overdue notices chasing up late payments automatically. |
| Professional Invoices A professional, good-looking invoice that's easy to fill out and present to your clients. Plus invoices are fully customisable via templates. | Automatic Payment Processing Script have ability to process payments automatically with all details recorded. No additional effort to keep track of your payments. |
| Automated Termination can be set to remove user accounts should they become delinquent for a specified amount of time. | Fraud Prevention Integrated Fraud Checking gives you peace of mind and block all risk orders. |
| Transactions Logging Each payment received and allows you to see exactly how much you've earned today. | Detailed Logs are kept for every action performed by the system and clients. you can review at admin panel. |
~ Demo ~
http://premium.atozseotools.com/premium/
Test Premium Account
Username: testacc
Password: password
Backend Account
Username: [email protected]
Password: password
URL: http://premium.atozseotools.com/admin/
Sample PDF Report
URL: http://premium.atozseotools.com/sample_report.pdf
~ Requirements ~
- AtoZ SEO Tools PHP Script v3.2 (or) Latest Version
- Website Reviewer Addon
~ Change Log ~
Version 1.8
- Added support for AtoZ SEO Tools v3.2x
Version 1.7
- Updated: Mobile friendly checker
- Updated: Safe browser API
- Updated: Social data library
- Updated domain availability library
- Generate PDF bugs
- Updated: Premium Helper Functions
Version 1.6
- Fixed: OAuth issues
- Fixed: Screenshot not working for already cached data
- Fixed: PayPal connection blocking due to no user agent
Version 1.5
- Fixed: Bug on "Subscription Details" Page
- Fixed: Plan Expiry message not cleared after logout
- Fixed: Some minor bugs
Version 1.4
- Added support for AtoZ SEO Tools v2
Version 1.3
- Updated: WHOIS Class
Version 1.2
- Added: Adding new customers from Admin Panel
- Fixed: Image verfication issue
- Fixed: Date bug at report page
- Fixed: Username lowercase issue at Invoice
Version 1.1
- Added: Options to manage "Cached Domains" from Admin Panel
- Added: Generate PDF Report from Admin Panel
- Fixed: PDF Report File Name Bug
- Code clean up
Version 1.0
- Initial release
Note: Make sure you have purchased A to Z SEO Tools (main script) before purchase this. Premium Membership Addon does not include any SEO Tools. It is incompatible "Turbo Website Reviewer"
Reviews (0)
Write a review
Note: HTML is not translated!

Continue
Photos (10)