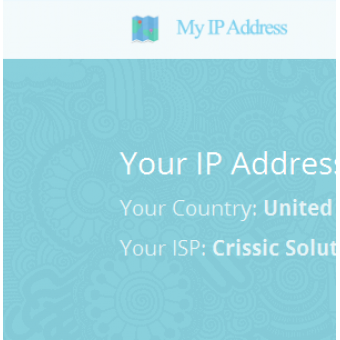 Availability:

In Stock

Product Code:

Product 10
Description
Pro IP locator - Professional IP locator with Google Map v1.3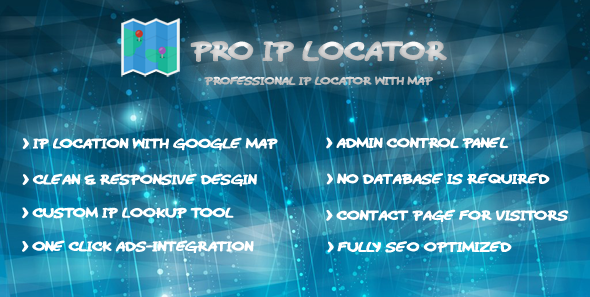 Pro IP locator (Professional IP locator with Google Map) helps you to find information about your current
IP address or any other IP address. It supports IPv4 addresses only.
Pro IP locator will show the following information
- IP address
- City
- State / Region
- Country
- ISP
- Latitude/Longitude
- With Google Map
Demo:
http://script2.prothemes.biz/

Admin Control Panel Access:
The admin backend allows you to manage all of your website and is really easy to use.
Goto: http://www.your_site.com/admin.php
Admin default mail id : prothemes.biz_user
Admin default password: password

One Click Ads Integartion:
You can enable, disable and manage the ads you want to display easily in the admin panel.

Features:
- IP location with Google Map
- Clean & Fully Responsive Theme Based on Bootstrap - Mobile Friendly
- Free IP database API
- Custom IP Lookup Tool
- One click Ads-Integration
- Admin Control Panel
- No database is required
- Contact page for visitors to contact you easily
- Fully SEO optimized
- CSS, JS and HTML optimize for Fast page loading
- Compatible with Opera, Firefox, Chrome, IE 11+, Safari, Android and IOS..
- And many more..

Requirements:
- Apache 2.0+
- PHP 5.3+
- Curl
- Safe_Mode Off

Note:
- Keep config.php file into writable mode.

Credit:
- Geolocation service from whatismyip.com.
- Website bulit using BOOTFLAT.

Do you have an idea?
Do you have an idea that you think to improve this item and applcation performance
you are most welocme to share your idea.
Change Log
Version 1.3 [25/04/2015]

- Improved API
- Code cleanup
Version 1.2

- API Bug fixed
- Code cleanup and minor bugs fixed.
Version 1.1

- Improved IP Geolocation Lookup
- Improved invalid IP detection
- Code cleanup and minor bugs fixed.
Version 1.0

- initial release
Reviews (5)
Write a review
Note: HTML is not translated!

Continue
Photos (3)